Head of Operation of COEL at UITIC 19th Congress in Chennai, India

Launching of "Foot Last Footwear" , a book written by Mr. Noor Mohammad

MoU Signing Ceremony between Guardian Life Insurance Limited and COEL

MoU Signing Ceremony between FDDI and COEL

Compliance and Social Welfare training
Upcoming Event
10th August , 2023
Dewan Plaza, 2nd Floor Holding #E-20, Word# 7, Pallibiddut, Chandra, Kaliakoir, Gazipur.
10th June , 2023
Centre of Excellence for Leather Skill Bangladesh Ltd
About COEL
Centre of Excellence for Leather Skill Bangladesh Limited (COEL) is the first legal entity of its kind in the country. It is an initiative of Industry Skills Council (ISC), the apex industry body on skills development which will act as one point service centre for leather sector in relation to skill development.
Success Stories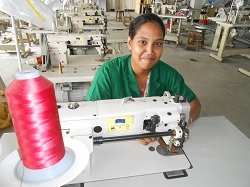 Asma Ul Husna was born in a lower middle class family. She was born on March 1992. From her childhood she loved schooling and studied in Bangladesh Railway Govt High School, Akhawra. After the high school education she joined for college at Shahid Smriti Degree College in Akhawra.
She grew up in a family with five other siblings. After her father and mother passed away her elder sister took charge of the family. Financial crisis compelled her to put a pause in her studies. She then started to feel as a burden for her family and then she decided to do something on her own.
Well, hearing from a family friend about COEL she came to COEL... More
Latest News
15th March , 2016

Leathergoods & Footwear Manufacturers & Exporters Association...